When I met Dan on September 28, 2002, I remember thinking that he was cute, charming and easy to talk to. He also had strong faith and understood the realities of life with Multiple Sclerosis.
As my mom and I drove home from the Finding Your Buried Treasure program where we met earlier that day, I kept hoping I'd see him again, soon! All of his great qualities were whizzing through my brain. But I didn't want to get too excited. I was not getting my hopes up, which would save me from getting hurt.
And never mind the fact he was a Springsteen fan AND he liked baseball, both of which made me say, "Yuck!"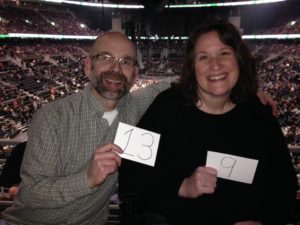 Fast forward 15 years, and I've seen Springsteen in concert nine times and absolutely love his music. Crazy-addictive it is. And I went to a baseball game on my honeymoon … and it was MY idea! I guess the love of a good man can change a girl, right?
Now check this out: I was able to work with Dan to write a guest post for the Mango Health blog that ties staying in the game with a chronic illness (like MS) to the lessons learned at MLB spring training. A blog essay. By me. About baseball. Who is this woman? 😉
I hope you enjoy this, and we look forward to the arrival of spring Monday and the opening day April 2!