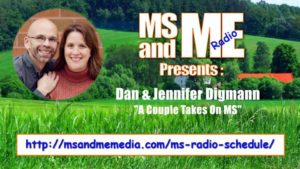 What an opportunity Dan and I have been given. Not only are we living with Multiple Sclerosis — that's how we found each other — but MS & Me Radio Network has found us and wants other people to hear more of our stories.
And what's really cool is the network wants to hear from a bunch other interesting people within the MS community.
It all starts with the premier launch of the MS & Me Radio Network on Sunday, August 13.
Our show, A Couple Takes on MS, is among the original network programs to connect with and serve the global community via streaming audio media.
We're pretty proud of the double meaning we came up with for the name of our show. Do you get it?
Of course we're a married couple taking on this disease together, but we each have our own take on living with Multiple Sclerosis. After all, Dan is a man living with relapsing-remitting MS, and I am a woman living with secondary-progressive MS. He's walkin', I'm rollin'. And though any situation we're facing, we have firsthand experience seeing from the perspective of someone living with MS and from the perspective of a caregiver.
Boom! A Couple Takes on MS 🙂
We already have three shows recorded that address topics of MS and Independence, MS Resources, and The Empowerment of MS Advocacy. And all shows feature the funky and fresh theme music produced by Blue Giraffe Kid (our heartfelt thanks to Kieran in Indianapolis)! For a sneak peek, check out the initial airing of our first show, Independence Day.
Dan and I want our shows, much like our blog, to connect with and empower other people to rise above the challenges they're facing and know they're not facing them alone. The shows will meet people wherever they are on their journeys and, let's be honest folks, Dan and I hope to make our listeners smile every now and again.
And if you want variety, there's a whole lineup of shows and hosts to make the MS & Me Radio Network a meaningful outlet for patients, families, caregivers, clinicians, researchers and healthcare professionals.It's the first MS-only 24 hours a day, 7 days a week dedicated streaming network created for the MS community.
Yes, we are excited. Yes, we hope you listen. And absolutely we want to hear from you! Please check out the station, see when you can listen to us or check out the recorded programs that will be available for you to listen to online, anytime!