Dan and Jennifer have appeared in regional and national news. Read a few of the articles about them and their journey with multiple sclerosis.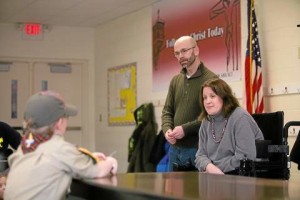 How One Couple Found Love Through MS
Everyday Health, August 2014

Despite MS, to Spite MS
MS Station Book Club, Multiple Sclerosis Radio, May 2013
MS, in three acts
Central Michigan University's Centralight Magazine (pg.20-24), Spring 2013
Mt. Pleasant married couple lives with multiple sclerosis, prepares for awareness fundraiser
Morning Sun, March 25, 2013
Mt. Pleasant Couple Living, Thriving with Multiple Sclerosis
TV 9&10 News, March 15, 2013
YWCA empowers women across the Great Lakes Bay Region
MyBayCity.com, November 18, 2012
The Rehabilitative Medicine Show on Doctor Radio
Sirius XM 81, October 22, 2012
The Challenge of MS
PN Magazine, September 2012
An MS Love Story
Life in Action, July/August 2012
Living with MS
WIHS Journal (WIHS Radio 104.9 FM, Middletown, Conn.), July 25 & 26, 2012
A book of their own
The Catholic Weekly (Diocese of Saginaw), April 23, 2012
'Despite MS, to Spite MS' authors to speak in Monticello
Eastern Iowa Health, March 28, 2012
Jennifer and Dan Digmann speak March 15
Clarke Historical Library News and Notes, March 26, 2012
Book details couple's battle with multiple sclerosis
Waterloo-Cedar Falls Courier, Oct. 16, 2011
Digmanns provide inspiration as the take on MS
Alma College news release, Oct. 13, 2011
Living hand in hand with MS
Detroit Free Press, Sept. 25, 2011
Digmanns share their story about MS
Monticello Express, Sept. 22, 2011
Mt. Pleasant couple pen book on life with MS
Morning Sun Sept. 14, 2011
For better or for worse, in sickness and in health
Midland Daily News, Feb. 18, 2011
An unwavering love
Vision Mid Michigan, Jan. 12, 2011
Mt. Pleasant couple live as positive faces of Multiple Sclerosis
The (Mount Pleasant) Morning Sun, April 25, 2010
Digmanns share story of life, love and MS
Wartburg (College) Magazine (pg.21), Winter 2010, Waverly, Iowa
Mount Pleasant couple copes with multiple sclerosis, inspires others with disabilities
Central Michigan Life, December 4, 2009
Dan and Jennifer Digmann: Fighting MS, hand-in-hand, one day at a time
Justin case you were wondering (Social media blog), December 2, 2009
The team I'm betting on
The Midland Daily News, October 23, 2009
Steering their own course
The Midland Daily News, October 15, 2009
A series of five podcasts featuring Dan and Jennifer for "I Walk Because"– The Digmanns were winners of Acorda Therapeutics' 2009 national contest in search of people to tell stories of their lives with MS
Four-part series covering Dan and Jennifer in the Monticello (Iowa) Express in April 2009:
• Monticello graduate will return to host community MS discussion
• Digmanns hope to raise MS awareness, seek cure
• Digmanns show amazing strength in battle with MS
• MS support group needed in Monticello
Husband and wife, both with multiple sclerosis, count on each other
The (Mount Pleasant) Morning Sun, March 1, 2009
Laugh About it Now [PDF]
Momentum (National MS Society magazine), Winter 08-09.
Dan writes about turning the tables on embarrassing MS moments with laughter.
Game on [PDF]
MS Connection (Michigan Chapter), Summer 2007.
May we all be champions in our respective competitions.
Let me tell you about … my MS wedding [PDF]
Inside MS, February/March 2006.
Jennifer and Dan's wedding was a little different from bridal magazine weddings
Record streak [PDF]
MS Connection (Michigan Chapter), April 2005.
Dan writes about competing with MS for 1,901 consecutive days.

Becoming the 'Bat Man' [PDF]
Inside MS, Spring 2002.
The day Dan was diagnosed with MS, he found another unwelcome visitor … in his shoe.