According to Healthline.com, "Unexplained fatigue and weakness affect about 80 percent of people in the early stages of MS."
We're tired of hearing about it.
Sure, at the core we are among the aforementioned 80 percent dealing with high levels of low energy, exhaustion and weakness. It is easy to say that MS is the culprit that causes us to feel such depletion. It can and it does.
But we refuse to give MS more credit than it deserves. We're working to trump the disease on the fatigue factor. If MS is going to wipe us out, we're going to do it on our own terms.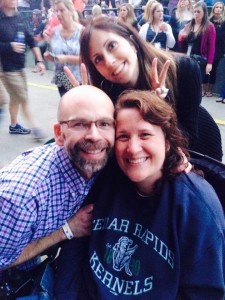 For example, consider the day of the Train concert two weeks ago where we woke up at 6 the morning so Dan could work half a day, come home, and we then got ready and drove 150 minutes to DTE Energy Music Theatre, made it to the concert by 7, only to leave the venue at midnight and finally dropped into bed at 3:30 a.m. All this to see Train, the incredible group we just saw the past three summers and just HAD to see again.
Of course we were exhausted when the alarm woke us up at 8 a.m. the next day. But it wasn't MS's fault that we stuck around to see Train play "Drops of Jupiter" in its encore.
That's all on us, not MS.
There are a lot of great tips to overcome MS fatigue, including staying cool and conserving your energy. Each trick is great, and they all have served us well.
But to certain point, each tip is a defensive move in managing the fatigue. We choose to make it a point to regularly go on the offensive, take some kind of control and call our own shots.
After living with MS for more than three decades combined, we realize that we're going to be tired whether we live it up or not. So MS be damned, and we push through each day, giving it everything we possibly can. Some days are better than others. That's the very nature of the disease itself, but then again, can't everyone say the same thing whether or not they're living with MS?
Either way, we're moving forward with MS fatigue on our own terms.