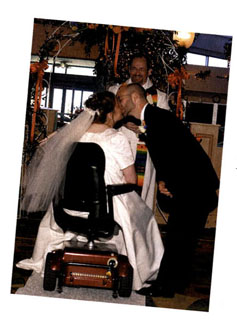 Movie writers would never dream up a fairytale of two people with multiple sclerosis falling in love and living happily ever after. But Jennifer and Dan have been living this truest of love stories as a married couple since 2005.
Combined, Dan and Jennifer have taken on this chronic illness for more than 20 years. Jennifer was diagnosed in 1997; Dan was diagnosed two years later. She has secondary-progressive MS, while his is relapsing-remitting.
They met at a special National MS Society program called "Finding Your Buried Treasure." Jennifer was one of the small group leaders at this daylong program intended to help people with MS rediscover the goals and dreams they'd lost sight of in dealing with the rigors of everyday lives.
It turned out they had more in common besides MS. Their earliest discussions revolved around fantasy football and Bruce Springsteen music. "I fell in love with Jennifer the day we met," Dan says.
On October 23, 2004, he asked Jennifer to be his wife, and they were married Sept. 10, 2005.
Since then, Dan and Jennifer have gone on to inspire dozens of friends, colleagues and perfect strangers with their amazing love story and passion for life.
Want to book Dan and Jennifer for a speaking engagement? Please review the information on this page.