Merriam‑Webster defines "odds and ends" as, "miscellaneous articles or remnants."
This is a perfect title to capture all of the assorted bits I want to share on this chilly fall morning. First and foremost, Dan and I thank each and every one of you who shared kind thoughts and words consoling us after Cooper's sudden passing. Our house is a little emptier. Who would have believed a 12-pound being would have such a presence?
But we are carrying on. Keeping busy helps. And this past month, we've been quite busy. Here is a glimpse into what we've spoken and written about.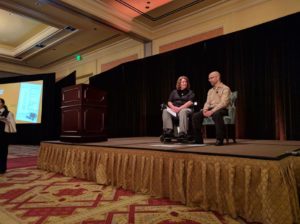 Connecting in the Lone Star State
We had the opportunity to deliver the keynote address at the 10th annual National Multiple Sclerosis Society On The Move luncheon in Dallas, Texas, on October 14. Our presentation and stories were a main part of an incredible event that raised more than $112,000 to support MS research and programs. Read more about it in this Culture Map Dallas article that described us as "a tough act to follow."
Posting on Mango Health Blog
We also were invited to write two guest essays for the Mango Health Blog. It always is an honor to share our thoughts on a site that strives to help people better manage their health. Check these out, and let us know what you think about our thoughts on these two issues:
• Representing Life with Disabilities on TV
• The Best Responses to Unsolicited Comments About Your Invisible Illness
Celebrating Halloween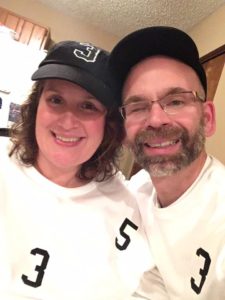 Speaking of odds and ends, we wish you a Happy Halloween from an "Odd Couple" 😉 And stay tuned for Dan's upcoming essay here about how "It's the Great Pumpkin, Charlie Brown" has inspired his life with Multiple Sclerosis.