A few weeks ago, I booked a flight for Dan and my upcoming Dallas trip. It will be the fifth flight we've taken throughout the past year and our second to the Lone Star state. We're starting to get pretty good at this flying stuff 🙂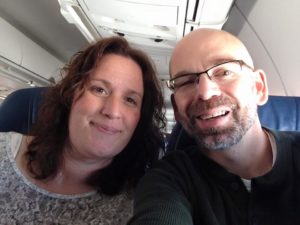 Interestingly enough, I woke up to this Facebook message from a dear friend: "You've flown before, right?"
Turns out she's planning on flying to Florida and was looking for some insights into air travel with an Amigo scooter. She had some great questions, and I hope I gave her some good answers.
Let's face it. Air travel can be quite daunting for most people as they navigate through security checkpoints, maintain their IDs and boarding passes, determine what they can and can't carry on the plane, arrive at their gates on time and retain some energy to still have a good time after arriving at their respective destination.
Now imagine what that's like when you're traveling with a disability and a motorized wheelchair that absolutely has to arrive, fully functional, at the same destination at the same time as you.
Quite the challenge, right?
Dan and I realized that after we provided our perspectives of traveling with a disability and a mobility device to help our friend, maybe more people could benefit from the tricks we've learned from our experiences. So, we put together a little list that helps us each time we fly.
Know the right number to call and book your flight.
There are special numbers to call for accessible seating. Often times you sit in seats that actually have as much legroom as first class 🙂
Airline loyalty is worth the investment.
Don't jump from airline to airline based on affordable prices. Find one that treats you well and stay true. We've had good success with Delta.
Get a direct flight if possible.
This eliminates any worries about the airlines losing your wheelchair or you rushing to make a connecting flight.
Check on accessible shuttles.
If you're leaving a vehicle in a long-term parking lot at the airport, make sure it has wheelchair accessible vans to get you to the terminal.
Limit your fluid intake.
Stay hydrated, but, not too hydrated (most airplane restrooms aren't handicapped accessible).
Get to the airport at least 2 1/2 hours early.
You need to get your wheelchair through security, but you also need to build in time so that you can go to the restroom a half-hour before the plane boards because the airline needs to take your wheelchair and load it on the plane.
Try to avoid checking luggage.
By the time you get off the airplane, the luggage carousel already may have finished and you will be left hoping that your bag is still there.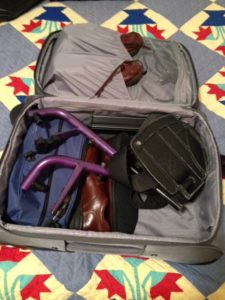 Pack efficiently.
Parts to your wheelchair may need to fit into your carry-on.
Don't feel guilty.
You may feel awkward when you get to go to the front of the security line ahead of all the other passengers. But it takes a lot longer for you to get your wheelchair checked than it does for everybody else to stand and walk through the electronic screening.
Think about what you're wearing.
Keep your apparel simple and minimize accessories so you can pass through security that much quicker.
Wear shoes that are easily removed.
Some TSA officers don't require you to remove your shoes, others do. Be prepared.
Get used to looking like everyone else.
Without my wheelchair, I look just like every other passenger on the plane.
Do your homework.
Wherever you may be going, make sure you know what is available for accessible public transportation, wheelchair replacement and accessible hotel rooms.
Pack and bring your patience.
You will need it. And if things go wrong, it's easier for the airlines to help you if you are a "pleasant" customer.
These are some of our top travel tips for flying with a wheelchair and a disability. What do you think? What tips do you have to help others flying the friendly skies?