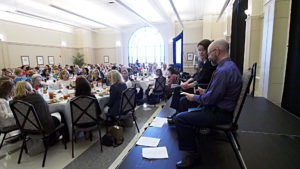 If you're looking for dynamic speakers who will engage, empower and inspire your team or audience, see what Dan and Jennifer Digmann are talking about and why they are the couple you need.
Dan and Jennifer have engaging programs to share, including:
The Day MS Met Its Match 
Staying Positive in the Face of Adversity
Powering Through Adversity Full "STEAM" Ahead
Multiple SclerosUS – Focusing on Teamwork in a Caregiving Relationship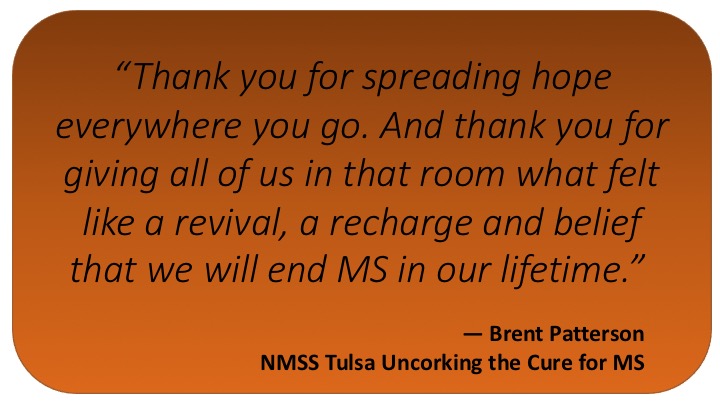 Dan and Jennifer will adapt their presentation to best fit the targeted goals for your event. Email digmannd@msn.com for more information about how to book Dan and Jennifer for your next event.
The Digmanns are available to speak to large and small groups for conferences, meetings, trainings and fundraising events, including:
Company diversity training
University and college classes and programs
Marriage counseling retreats
Physical and occupational therapy professionals
Multiple Sclerosis programs
Health care professionals, including physicians, nurses and neurologists
Community agencies such as Lions, Kiwanis, and Rotary clubs
Commission on Aging
Local and state governments
Caregiver groups
CNA trainees
Church groups
Youth organizations, such as Girl Scouts and Boy Scouts
Places where Dan and Jennifer have spoken and organizations that have invited them to share their stories include:
2017 NMSS Uncorking the Cure for MS (Tulsa, Ok.)
2017 NMSS On the Move Luncheon (Houston, Texas)
2017 NMSS On the Move Luncheon (Baton Rouge, La.)
2016 NMSS On the Move Luncheon (Dallas, Texas)
2015 Central Michigan University's Mary Ellen Brandell Volunteer Center Issue Day (Mt. Pleasant, Mich.)
2015 NMSS Kentucky-Southeast Indiana Chapter Moving Mountains for MS Family Event (Frankfort, Ky.)
2015 Advertising Week Patient Panel Presentation with Healthline (New York, New York)
2015 NMSS Indiana State Chapter On the Move Luncheon (Fort Wayne, Ind.)
2015 Disability Network of Mid-Michigan Disability Summit 25 Years of the ADA Panel Presentation (Midland, Mich.)
Wartburg College–Student Vocation and Overcoming Adversity Presentation (Waverly, Iowa)
Wartburg College–Professional Development Inclusion and Overcoming Adversity Presentation (Waverly, Iowa)
2014 NMSS Kentucky-Southeast Indiana Chapter Moving Mountains for MS Family Event (Carrollton, Ky.)
Healthline Café Conversations ePatient Event (Philadelphia, Penn.)
Scheurer Hospital Multiple Sclerosis Group (Pigeon, Mich.)
NMSS Southeast Region Teleconference "Maintaining Relationships" (Southeastern United States)
Central Montcalm High School (Stanton, Mich.)
NMSS Upper Midwest Chapter Little Black Dress Brunch (Iowa City, Iowa)
YWCA Great Lakes Bay Women's Empowerment Symposium (Midland, Mich.)
What's Hot in MS? Annual conference cohosted by NMSS Ohio Buckeye Chapter and Cleveland Clinic (Cleveland, Ohio)
National Multiple Sclerosis Society, Michigan Chapter Annual Meeting (Warren, Mich.)
Mount Pleasant Area Community Foundation Women's Initiative "Look Who's Talking" Speaker Series (Mt. Pleasant, Mich.)
Region VII Area Agency on Aging annual meeting (Bad Axe, Mich.)