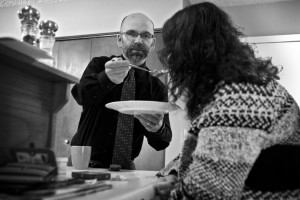 It's always humbling when people want to know more about us and about our shared battle with Multiple Sclerosis.
Jennifer and I comment that our life together and serving as each other's caregiver is an open book, and we're willing to answer pretty much any question.
Leave it to a Central Michigan University student to make us uphold such a claim.
But it wasn't just any CMU student. It was Emily Mesner. She is one of my photo interns.
She came to me late last year with a request to feature Jennifer and me in a photo essay about caregiving. It wasn't like we never have had photographers develop similar stories about us. The storytelling works of photographers-turned-friends like Ryan Evon, Ashley Miller and Will Moore captured some of our most favorite pictures.
One of the biggest differences with those projects was I didn't directly work with any of them. Emily is my colleague. We work together on assignments about the awesome work of CMU students and faculty. She takes the pictures. I write the stories.
This time, though, it was all Emily's assignment. It was for her class, and it was about the MS caregiving life of my wife and me.
Another one of the biggest differences between Emily and the other photographers is this: First she was a friend, then she was our photographer.
The reality was, Jennifer and I never once felt awkward about opening up to Emily and providing her access to the more personal sides of our caregiving life. She had an all-access pass, and she handled it all with the most discrete level of professionalism.
We invite encourage you to check out the story "Our Everything" that Emily crafted, and see for yourself why she recently was awarded second place for College Photographer of the Year by the Michigan Press Photographers Association.