It's interesting how lines from movies have permanently worked their way into regular conversations between Dan and me.
For example, trips to sporting event concession stands often trigger one of us to quote Spalding Smails from the golf classic Caddyshack, "I want a hamburger. No, cheeseburger. I want a hot dog. I want a milkshake. I want potato chips."
Or, when we get lost while traveling and are forced to backtrack multiple times, we often quote Clark Griswold from European Vacation and chime in unison, "Look kids! There's Big Ben. Parlaiment."
One line that I often quote when shopping and putting together a new outfit is from the ultimate chick flick Steel Magnolias when Clairee Belcher wisely says, "The only thing that separates us from the animals is our ability to accessorize."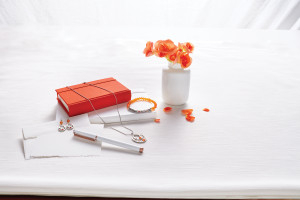 Dan never has actually seen this tearjerker, but I quote enough of its lines that he probably feels he's seen Steel Magnolias at least a hundred times. And just as the character Shelby says, "Pink is my signature color," Dan and I are realizing that orange has become ours.
Orange is the color associated with Multiple Sclerosis. Through Dan and my involvement with increasing MS awareness in everyday life and as MS activists, we've become accustomed to acquiring orange apparel. From sweatshirts and T-shirts to sweaters and hoodies, our closets have become arsenals of orange.
And, yes, we have to accessorize. It's what separates us from the animals, right? Dan has enough orange ties to go more than a week and never wear the same one twice, and I have an orange purse, several orange scarves and often adorn my fingernails with orange gel polish.
Helping to complete my orange ensemble is a new line of MS jewelry from Christopher & Banks. It's attractive jewelry that is easy to wear and incorporates inspiring messages of hope and love.
Christopher & Banks is a Minneapolis-based retail company that specializes in women's clothing that is classy and functional. My mom introduced me to this clothing store several years ago on one of our many shopping excursions to the mall. Bonus: even though I've moved away from the mall, I still can do all of my Christopher & Banks shopping online.
The HOPE MS line features a set of trendy silver-tone earrings adorned with an orange bead and a matching stylish circle charm necklace. It also includes a beaded bracelet that carries the message of love and hope.
I'm particularly fond of the stretchy bracelet because there's no need to fumble with a clasp that can create challenges for hands (like mine) that have decreased dexterity and limited sensation due to MS.
Christopher & Banks gives 50% of each HOPE MS jewelry purchase to the National MS Society. This generosity comes as no surprise because Christopher & Banks has been a tireless supporter of the National MS Society for a number of years. Don't believe me? Just check the back of one of your Walk MS T-shirts throughout the years for proof.
As Dan and I get ready for our Walk MS event in May, I'm looking forward to the fact that, courtesy of the Christopher & Banks HOPE MS jewelry line, I will separate myself from the animals with a stylish orange bracelet to accessorize my outfit. You can get your orange on and learn more about the HOPE MS jewelry line by visiting Christopher & Banks online.