Multiple Sclerosis possesses weapons that should make Dan and me feel powerless.
Striking us with extreme fatigue. Weakening our limbs with constant numbness. Robbing me of my ability to walk.
Powerless.
But that's not how we've rolled, both literally and figuratively, in our 10 years of marriage. Dan and I have lived to redefine what MS is, and these MS weapons of weakness have become producers for our power.
We are using this chronic illness we share to live as powerful MS activists.
Most recently we joined more than 350 MS activists from across the United States, including fellow Michiganians Ruth Linnemann, Ann Serafin and Howard Baron, at the National Multiple Sclerosis Society's 25th Annual Public Policy Conference in Washington, D.C. It was our second time attending such an event in the nation's capital to meet with our legislators and advocate for legislative issues important for the MS community.
After two days of workshops and sessions to discuss the issues, we all donned our MS-orange apparel and ventured to Capitol Hill.
A proud moment came during the breakfast and Hill Day Send-off when Dan and I had the opportunity to fire up the hundreds of MS activists with this speech we wrote: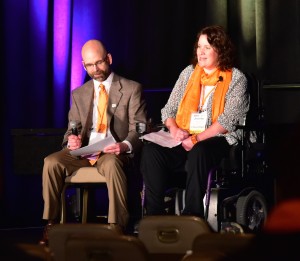 DAN
How special do you feel today? No, really think about it.
Of the more than 400,000 people in the United States living with Multiple Sclerosis, you are among the select few with the opportunity to come to Washington, D.C., to advocate for yourself and for others.
You are making a major difference. Look around this room and know that you aren't going to Capitol Hill by yourself. We all are in this together.
JENNIFER
Together we are stronger! This is a reality that Dan and I know far too well. We each started out volunteering for the National MS Society serving as MS self-help group leaders in Michigan cities that were 92 miles apart.
But fate was in our favor when the Michigan Chapter hosted the event Finding Your Buried Treasure on September 28, 2002.
I was one of the organizers. It was a program intended for women who had lost sight of their goals, hopes and dreams after they were diagnosed with MS.
DAN
But one of the organizers forgot to put that whole "women-only" thing on the invitation. Following the encouragement from the chapter's programs manager, I showed up at the event. I fell in love with Jennifer the moment I met her.
JENNIFER
I thought Dan was adorable, and, to borrow language from our advocacy training, he had me hook, line and sinker. We dated for two years. Once we ironed out the details of how a man with relapsing-remitting MS and a woman with secondary-progressive MS could pull off marriage and happily ever after, Dan came to me with his ask to marry him.
Last September 10 we celebrated our 10th wedding anniversary. In this past decade, we've accomplished so much that we never could have done alone.
DAN
Among these accomplishments, we both earned our master's degrees from Central Michigan University, were inducted into the National MS Society Volunteer Hall of Fame, and have overcome all the challenges this stupid disease has thrown at us.
Together we (Jennifer and I) are stronger.
Together we (MS activists nationwide) are stronger.
Once on the Hill, Dan and I met with legislative aides from our two Senators' offices (Sen. Debbie Stabenow and Sen. Gary Peters) as well as from our Rep. John Moolenaar. In addition, we met with a legislative aide from Michigan Rep. Debbie Dingell's office and even had a 30-minute face-to-face meeting with Michigan Rep. Dan Kildee.
Powerful, right?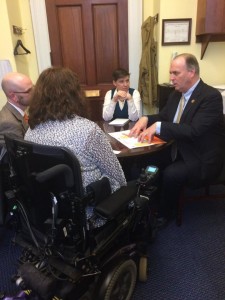 In each of our meetings we thanked our Senators and Congressmen for their past support, and we addressed these current issues and related requests:
National Institutes of Health
Request: Provide at least $34.5 billion for the National Institutes of Health (NIH) in FY 2017.
Need for Robust MS Data to Advance Research
Request: Co-sponsor and pass the Advancing Research for Neurological Diseases Act (H.R. 292 / S.849).
Access to MS Medications
Request: Hold a hearing focused on the patient perspective on access to MS medications
With the dust seemingly settled from our trip (follow-up thank you letters are written, phone calls are made and we're making plans for August in-district meetings), we need help from you and others to stir up some more dust. As we said at the conference, "Together we are stronger."
We encourage you to get involved as an MS activist and join us in moving toward a world free of MS. Take a moment today to see how easy it is to take action in your local community and at the state and national levels.
As the NMSS advocacy website states, "Even if you only have a few minutes today, you can be an MS activist. Every action and connection counts and can facilitate positive change."
Help to redefine what MS is by showing it how powerful you are.