If you aren't yet watching The Voice this season, we encourage you to start. Now. Catch the progress of one of the most talented musicians we know, Laith Al-Saadi, who auditioned and was picked to compete on Team Adam!
One of the first essays we ever posted on our blog was written about the night we met Laith in St. Louis, Michigan, almost exactly seven years ago. In honor of his huge accomplishment tonight on The Voice, we are reposting the essay and photo we posted on March 15, 2009. Enjoy!
Laith Al-Saadi at The Gem
So, Jennifer and I are sitting here still reeling from less than four hours sleep last night. Perhaps it's a blues hangover or it's just our age telling us that we no longer can stay out late and get to bed after 2 a.m.
Either way, we did something last night that we've been talking about ever since we started listening to the Juke Joint with "The Duke of Juke" Robert Barclay on CMU Public Radio: We finally saw Ann Arbor-based rockin' blues man Laith Al-Saadi at The Gem Theater in St. Louis, Michigan.
We first heard Laith's infectious groove, smooth vocals and powerful rock- and blues-driven guitar on the Juke Joint while we were stretching Jennifer's legs one Sunday evening. His song "Turn It Around" from his debut album, "Long Time Coming," was like nothing we had ever heard before. We bought the disc and we've been hooked ever since.
Laith is a favorite of the blues crowd who frequent The Gem Theater, so he usually appears there several times each year. But, because it was a smaller venue, we figured it wasn't going to be handicapped accessible and didn't take the time to investigate whether Jennifer could get into the theater with her powerchair.
Too bad we didn't investigate sooner.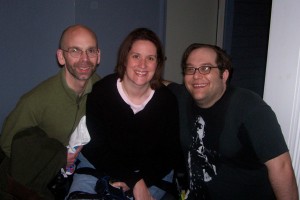 For whatever reason–perhaps the sunny weather or hearing songs off Laith's latest release, "In the Round,"–we went for broke. We were in the area and drove by The Gem Theater to make sure it had no steps to enter the downtown building. After seeing there was no step up into the theater, we called about tickets.
We went into this figuring The Gem would not have a suitable accessible bathroom and, when Jennifer needed to use the restroom we likely would have to leave early or use the accessible restroom in the nearby McDonalds.
It was our lucky day because The Gem restroom was first class. In fact, owner Minard Shattuck came up to us shortly after we arrived to let us know where the accessible restroom was located. Mindard and his wife, Jen, did everything they could to make this a comfortable and enjoyable experience for us (Thanks guys).
And it was a great thing that the bathroom was perfect for us to use. Laith tore it up singing and jamming with his drummer and bass player for nearly four hours. That's right: FOUR HOURS! What an amazing show (Thanks guys).
We're already planning our next trip to The Gem Theater to enjoy another great blues show and have marked our calendar for the next time Laith will perform there. We encourage you to do the same!