My brain froze when the interviewer asked Jennifer and me the simplest of questions: What is your favorite Beatles song?
Wait. What? What is my favorite Beatles song, I quickly thought. Is it Penny Lane? No, that's too cheesy. Here Comes the Sun? Equally as cheesy. Come on, Dan! Think! Think! Of course it's While My Guitar Gently Weeps. Of course it is, Dan. Of cou– But wait! Was that a Beatles song or was it solo George Harrison? And I couldn't outsmart the guy asking the question. He lives just outside of London and will see right through me.

We were on a recorded Skype conversation with Wes Thompson, the producer and brains behind the powerful podcast series "MS around the UK." He lives in Marlow, England, and Wes has the vision of bringing the MS community closer together through podcasts. His goal is to speak with an MSer from each of the 69 cities in the UK within a year.
Here's what Wes wrote to explain how he got us – a couple from Mt. Pleasant, Michigan, in the United States of America – involved in his series: "MSaroundtheUK is branching out tonight… across the pond! When we were searching Twitter we came across this couple. Both married to MS but also married to each other!"
Thankfully, in my Beatles blank-out moment, Jennifer had her wits about her. She was quick to chime in with Michelle, her parent's inspiration for her middle name.
Whew! Thanks for taking one for the team, Love.
We encourage you to take 15 minutes and 23 seconds out of your day to listen to our podcast with Wes, and then go further and listen to them all!
Sure, the program is called MS around the UK, but we live in a time where the Internet and social media instantly connects us to people worldwide, and MS doesn't care where you live. It knows no borders.
The podcast interviews are lively and engaging, and most are kept to between 10 and 15 minutes. Wes is an incredibly talented, personable and upbeat host who has a great thing going for the entire MS community.
The series of podcasts truly is about all of us who are either directly and indirectly dealing with MS.
Podcast vision sparks MS mission
This is why Wes opens his conversations with an inclusive comment such as, "Tonight we're speaking to … " because he believes that everyone is involved in the interview. He's merely the moderator for the community.
"I want it to be more like a club," Wes said in a separate conversation with Jennifer and me. "The podcast was an idea I had, and I didn't realize how powerful it was until I started talking about it."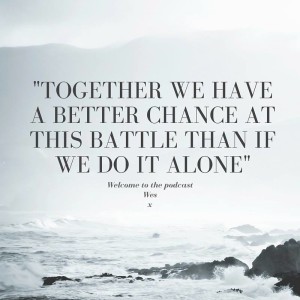 It was just before New Year's Day 2016 that the idea to build a UK MS podcast community came to Wes, who felt he could use his broadcasting skills to help advance his cause.
Wes is a former on-air radio personality with the British Forces Broadcasting Service. He was diagnosed with MS on Aug. 17, 2004, just as he started his first BFBS tour in Germany.
"I was diagnosed a week before my 23rd birthday, but I had worked so hard to get on the radio, I wasn't going to let MS stop me," he said.
Within the past 12 years, Wes has flourished in the face of MS. He has written three books – including the 5 star rated, top 10 Kindle smash How to Say Boo to a Goose – continues to serve as an online radio personality on programs such as Hit45s.com, and is engaged to marry the love of his life, Abby, who he met in 2013.
And, of course, he has launched MS around the UK that will positively impact countless people worldwide.
"I always ask people, 'What advice do you have for others?' because you need to get as much information as you can when living with this disease," he said. "It will be great if together we can change people's lives."
And with one conversation, Wes enhanced our perspectives in living with MS, developed a great friendship across the pond and influenced us to consider traveling to the UK to see him and enjoy "real" fish and chips.