We felt bad and apologized when we asked other people to take care of things we have do each time we attend a public event.
Welcome, friends. Our life can be such an inconvenience.
Not that the people patiently handling our requests weren't fully willing to help us. We just regretted having to ask them to do more than they had to do for others. But these are among the realities of living with a disability.
Through Dan's work at Central Michigan University, there were two free faculty/staff appreciation events planned: a minor league Great Lakes Loons baseball game at Dow Diamond and a Night Ranger and REO Speedwagon concert at Freedom Hill. Count us in!
But here's the catch that university event coordinators had to contend with: counting us in required more than just adding our name to the list of other faculty and staff members eager to catch a baseball game or a classic rock concert. This is why we were so apologetic to the people who made our attendance possible.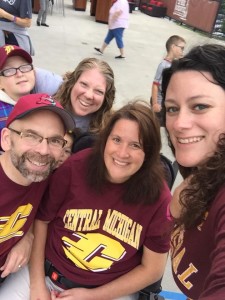 They needed to make sure that we had a handicapped accessible seat and a companion seat to go with it. They also needed to make sure that there were no stairs to go up or down (even "one small step" can seem like Mount Everest to a person in a wheelchair) and that there was a fully functioning elevator and ample space for Jennifer's power wheelchair.
And these requirements didn't even address our wish list that the venues each have an accessible restroom Jennifer can use with Dan's assistance. Family restrooms are perfect, but we've asked for too much already, right?
Not necessarily, according to the Americans with Disabilities Act.
The nation recently marked the 25th anniversary of George H.W. Bush signing the ADA into law on July 26, 1990. This historic piece of civil rights legislation committed itself to eliminating discrimination against people with disabilities.
And we celebrated this event by participating in the Disability Network of Mid-Michigan's Disability Summit. Sessions throughout the day included Medicaid/Medicare, Assistive Technology in the Workplace, Living Wills and Telling Your Story. In addition to meeting and befriending keynote speaker Greg R. Baird, who also presented the session "Out and Inclusive," we served as members of the panel during the session "25 Years of the ADA."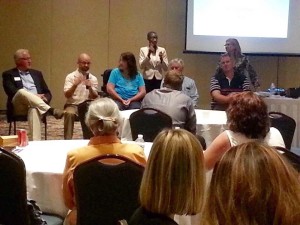 Our biggest takeaway from the event was that for as far as America has come with the ADA, there still is work we all can do to ensure full inclusion of disabled people in the workplace and in everyday life. Such inclusion will lead to better relationships with and understanding of all people.
This is why we continue to educate others and ask for what we specifically need to participate in events like baseball games and rock concerts. Eventually, we won't have to feel apologetic for asking. Someday, such accommodations will become the standards rather than the exceptions.