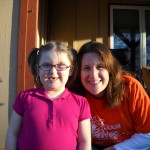 I recently was watching our friends' 7-year-old daughter, Abby, and while we were drawing at Dan and my dining room table, our conversation went something like this:
"So are you excited about Easter?" I asked.
Distracted by the work of art she was creating, Abby muttered, "Uh-huh."
Trying to continue our lively discussion I inquired, "What are you doing this year?"
She stopped her pencil and thought for a second. "I think pretty much the usual stuff."
When Abby resumed her refrigerator-worthy creation, she asked, "What about you, Jennifer?"
"Dan and I are going to Iowa."
Her little hand somewhat forcibly slammed her pencil down on the table as she exclaimed, "Again?! But weren't you guys just there?"
Maybe Abby was right. In the almost nine years Dan and I have been married, we've made that 1,000-mile-roundtrip drive more than a dozen times.
Not to be cocky, but we've got this trip down.
Even though Dan and I both have Multiple Sclerosis, and I need to use a power wheelchair for mobility, our MS does not hold us back from traveling to see our family.
Making the same trip many times we've discovered useful tactics that make this and additional road trips more manageable when traveling with a disability. None of these have necessarily undergone the rigors of scientific testing, but here are some strategies that have worked for us and may help you when you hit the road this summer:
For better or worse, salt is our friend
Just as sure as we need fill up the van the night before we leave, it's guaranteed we have the same road-trip-eve dinner: A Hot-N-Ready Pizza and order of Crazy Bread from Little Caesars. That's it. Nothing more. Nothing less. And here's why: the salty pizza helps us to retain water to ensure we won't have to make as many bathroom stops on the road. Plus, the leftovers are perfect for a quick breakfast or lunch on the road.
Rest stops made easy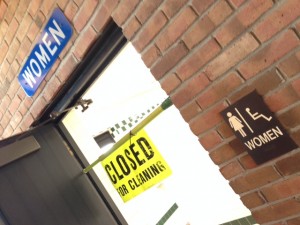 We know which rest stops are, well, worth the stop. Not that we're terribly picky, but the rest stop's restroom  should be clean and have a good location, i.e., make for a quick off and on back to the expressway. We love the ones that have accessible family restrooms so Dan can help me make the transfers. One thing we've learned is that if there isn't a family restroom, the rest stop attendant usually is available to close one of the women's restrooms "For Cleaning" so Dan can help me use the ladies' room.
Accessing accessibility
Rest area restrooms must be accessible. We've learned that some rest areas display the wheelchair symbol (the universal sign for accessibility) on its expressway signage, but sometimes they are anything but wheelchair accessible. Forgive my bluntness, but just because a restroom stall has two grab bars does not mean it is accessible for me and my powerchair. An accessible stall should have enough space for my wheelchair to turn. If a restroom is large enough for both Dan and me, we make a mental note and remember that spot.
Pack a carry-on bag
While I am on the restroom topic, having a spare change of pants in the van is a must. My MS has led to more bladder issues, but once again, I try not to let that hold me back. Instead, I pack a bag of spare clothes. It gives me comfort and the confidence to make a nine-hour road trip knowing that if we don't find an accessible restroom in time, I have a clean, dry pair of pants readily available.
Ask for more than an accessible room
When booking your hotel room, it's important to know how to ask for what you need. Do you need a barrier-free room or perhaps you need a roll-in-shower? Knowing exactly what to request when making a hotel reservation will save you a lot of time and headache when you check into your room. Try to think of every little thing, because that little thing likely isn't a little thing at all. For example I've learned that because I'm left-side weak, I need to ask that my hotel bathroom is equipped with a grab bar on the right side of the toilet.
Invest in roadside assistance
You can never underestimate the help and usefulness of roadside assistance. While there likely is monthly fee for roadside insurance, being able to call a toll-free number to request reliable service to repair a flat tire or tow your broken-down vehicle is priceless. Such roadside assistance can give you peace of mind to make your trip.
Hope these trips are useful to you. Happy Travels!!