As Dan mentioned in his self-care essay, this is your year to be awesome and to make you your priority. Hopefully you had fun with our first challenge last week to focus on eating breakfast every morning.
Now can you understand why it's the most important meal of the day?
Congrats on getting a strong start, and keep up the great work of fueling up to start your mornings!
With that fuel in your belly, are you ready for your next self-care challenge?
As you remember, Health Storylines selected Dan and me to serve as Self-Care Ambassadors. And with this, we are working to create a community where individuals (like you!) encourage and empower each other to take good care of themselves.
Again, we are encouraging you to join us and track your progress. To do this, simply download the Health Storylines app or go to healthstorylines.com and set up a free account.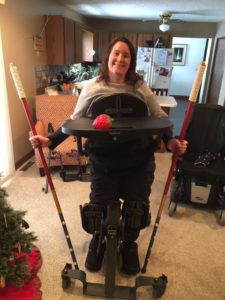 I am particularly fond of the "My Journal" feature of the app. It's a great place to write my reflections and accomplishments about my health and how I rose to my challenges.
Here is Dan and my second self-care health challenge for you:
Put your body in motion
This challenge isn't about exercising, per se, but it is about moving your body more — whatever that looks like. After all, I'm in a wheelchair and most of my moving happens with help from others.
But still, even with help from others, my body is moving!
Whether it is as simple as a stretching in your home or as intense as circuit training in the gym, we want to see you move! Getting your body moving can help to increase your energy and strength, improve your mood and blood circulation, and reduce muscle tightness and spasticity.
Literally and figuratively move forward on this second self-care challenge today, and track your progress every day this week in the "My Journal" tracker. And please share your progress with us by posting photos to our Facebook or Twitter and using #selfcareMVMT, or by commenting on our blog.