OK, so this is the third week of Jennifer and my self-care challenge asking you to take better care of yourself.
In the first two weeks, we encouraged you (and ourselves!) to eat breakfast in the morning and get more movement.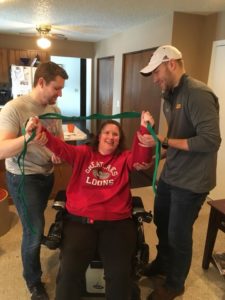 This past week, we got movement doing everything from stretching at home to exercising in a CMU classroom and pitching horseshoes outside. Whew!
How's the self-care challenge been going for you so far? Have you downloaded the Health Storylines app or visited healthstorylines.com and set up your free account?
Tracking our progress and supporting each other have been great for us, and we'd love to hear from you about your successes! And if you haven't started, today is the day for you to get started with a new self-care challenge.
Keep in mind, this is a challenge for everyone (whether or not you have Multiple Sclerosis) to take better care of themselves. Yes, we're talking to you 🙂
So with this in mind, here is our third self-care health challenge for you:
Flex your mental muscle
Yes, technically the brain is not a muscle, but you still need to work it out to strengthen it. And much like the 656 muscles in your body, you need to use it or lose it.
So, what do you think? Are you up for this challenge? Yeah, we think so too.
Take the time each day to use your mental muscle. Whether it's by doing a crossword puzzle, engaging in a thought-provoking conversation, reading a book, or playing Sudoku, there are countless ways to challenge your mind.
Something I often say I need to do is read more books. Challenge accepted! I will consciously carve out time to read the Bruce Springsteen biography I started last fall but haven't yet finished. And Jennifer says she's going to continue playing Scrabble and trying to beat me at Jeopardy.
How about you? How are you going to flex your mental muscle?
Get started today, and be sure to track your progress through the "My Journal" feature in the Health Storylines app or website. And please share your progress with us by posting photos to our Facebook or Twitter and using #selfcareMVMT, or by commenting on our blog.