Jennifer and I have made no secrets that we are dedicated to living the best life we possibly can despite Multiple Sclerosis.
Sure, we care about medical research developments and a promising future that scientists one day will discover a cure for this disease that we each have lived with the past two decades.
But our biggest concern is what's available to improve our life — right now.
This is why we couldn't be more excited to introduce you to Julie Szarowski-Cox and the work she is doing to help people with MS improve the quality of their lives.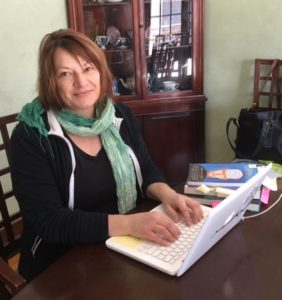 Julie is a fifth-year doctoral student in the University at Buffalo Counseling Psychology program, and she's completing her internship at the university's Counseling Services and finishing her dissertation. Through her research, Julie is looking into people's psychological adjustment to MS, specifically regarding life goals and engagement in life.
She became interested in this topic after volunteering for a neuropsychologist in the area who specializes in monitoring disease progression in individuals with MS. Julie also has a personal interest in the disease. Her sister-in-law was diagnosed nearly 10 years ago, and a few of Julie's friends also have been diagnosed.
"I noticed that to a certain extent, disease progression did not necessarily correlate to quality of life," said Julie, who has lived her entire life in the Buffalo, New York, area. "It sparked my curiosity, and I wondered what are some of characteristics of those who report a higher quality of life?"
Julie recently reached out to Jennifer and me to see if we would share the link to her research survey with the MS community. All of this information is included at the end of this essay, but we wanted to know and share more about Julie, her research and what she hopes to accomplish for the MS community. Here are excerpts from a conversation we had with her:
What can you tell us about you and your family?
I am the youngest of four. I have two older sisters and an older brother. I am happily married to my husband, Craig Cox. We do not have any children together, but he has a son from a previous marriage.  
 Why did you choose this topic for your dissertation?
I noticed that in comparison to other chronic illnesses, there was far less research relating to psychological adjustment and treatment of individuals with MS than other illnesses. My dissertation explores individual life goals, pursuit of those goals, meaning in life, and personality style as it relates to their quality of life.
What are the goals of your research?
I hope to gain some insight into ways that individuals with MS can be assisted in their adjustment to the disease. Ideally, psychological interventions could be created that would be brief, easily accessible, and help individuals with MS to improve the quality of life. My survey is a first step in examining potential areas where health professionals could intervene.
What has surprised you most about MS, the people who live with it, and the challenges they face daily?
The most surprising and inspiring aspect of interacting with individuals with MS is their willingness to engage in any type of research that may benefit our understanding of the disease. The majority of the individuals I've encountered are grateful and encouraging about the research that I am doing. I feel that although the contribution of my research to the adjustment to MS may be relatively small at this point, I want to do what I can to help these individuals.  
What is your targeted completion date?
The majority of my dissertation is written and once I have enough surveys collected, then I will analyze the results and write the final two chapters. My hope is to successfully defend my dissertation by May 2018.
How can people with MS participate and complete your research survey?
The University of Buffalo Institution Review Board and the National Multiple Sclerosis Society Review Board both have approved my study. The survey is completely anonymous and takes about 12-15 minutes to complete. People can complete the survey online at https://www.surveymonkey.com/r/MSvaluedliving​