In a less-than-silent protest Cooper is not posting his Monday morning blog this week. He's extremely upset with Jennifer and me and made this known the second we got home late Thursday night.
I kid you not: Cooper ripped off a litany of what I could only interpret as foul-mouthed meows to scold us for leaving him alone for 40 hours. Never mind the fact that we had our friend Amy stop by to give him food and water and to clean his litter box.
ME-OW!
And so, I bowed down to our beloved feline leader, agreeing with him that I have been lax in posting essays to our blog. That yes, indeed, Cooper has carried my weight here as I've focused attention on completing my graduate degree. And of course, if Jennifer and I had time to fly out to Philadelphia, I sure as heck should have to the time to write a post for our readers.
I already was planning on it because the Philly trip definitely is something to blog about.
Healthline invited Jennifer and me to the City of Brotherly Love to join three other health advocates in serving as panel members during its Café Conversations event to provide ePatient insights to pharmaceutical industry marketers.
In sharing the stories of our patient journeys, we each offered perspectives on the types of information we're looking for and the ways Pharma can best communicate such messages with us.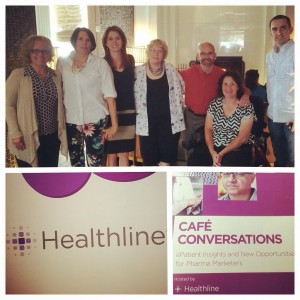 While Jennifer and I spoke about reaching out to the Multiple Sclerosis community, other panel members were Josh Robbins, an HIV-positive activist; Eleanor Garrow-Holding, president and CEO of the Food Allergy & Anaphylaxis Connection Team; and Leslie Vandever, a Rheumatoid Arthritis activist.
It was so empowering to connect with other activists and speak directly to industry marketers about listening to the stories of people living with MS. Among the points Jennifer and I made based on our respective experiences, we encouraged Pharma to:
• In addition to the newly diagnosed, be more inclusive in connecting with people who have lived with MS for many years.
• Show realistic images and tell inspiring stories that are more relatable to people battling this disease daily.
• Reach out directly to patients in their respective communities and build relationships to inform and educate neurologists and medical professionals.
We talked about a lot more than that during our panel presentation and small-group discussions, and we still are so grateful for this opportunity to share our advice to help improve communications with the MS community.
So how about you? What insights and perspectives do you have for Pharma to improve it communications and marketing strategies?
Photos phrom Philly