Have you been participating in Dan and my self-care challenges these past three weeks? Did you download the Health Storylines app or visit healthstorylines.com to set up your free account?
It's a pretty valuable and easy-to-use wellness tool. Really, we wouldn't steer you wrong 🙂
And for this fourth week of our self-care challenge, we are encouraging you to get some rest.
Seriously, why are kids the only ones encouraged to nap?
Listen to your body. Life gets busy, and we get run down with every single thing we do. Whether it's intense shopping at the store or simply warming up a frozen meal in the microwave, everything takes its toll on our bodies.
We need to slow down. To cat nap. To steal away some quiet time. To rest.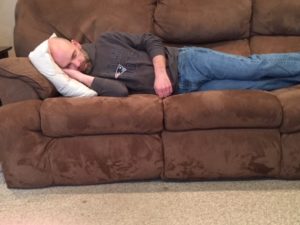 It's easy to look at our never-ending "to-do" lists and think we are better off pushing through our exhaustion just to check off one more task.
But Dan and I think otherwise. Imagine how much more you could accomplish with a little more energy in your tank.
I think of the battery in my power wheelchair. It has a gauge that shows how many of its six bars are left in its charge. When it gets below two, I know I have to be cautious of how much I try to accomplish.
When the chair's done, I'm done. Literally.
So if my chair is at two bars, I realize it never will make it for a quick trip to the store. Instead, I pause for 30 minutes to plug in my chair and give it just enough charge to take on one more task.
But, why don't we treat our bodies the same way? Just taking half an hour to stop and figuratively top off your tank can make the difference between falling short or confidently crossing the finish line.
So again, we implore you to give it a rest.
Join us for this week's challenge, and be sure to track your progress through the "My Journal" feature in the Health Storylines app or website. Please be sure to share your progress with us by posting photos to our Facebook or Twitter and use #selfcareMVMT
And don't forget this self-care challenge is for everyone, whether or not you have Multiple Sclerosis. We all need to take better care of ourselves!
Besides, who doesn't like a nap or taking a break?