Call it convenient timing, but the National Multiple Sclerosis Society Michigan Chapter hosted its annual Women on the Move Luncheon Tuesday, Sept. 10, in downtown Detroit.
It was the same day that Jennifer and I celebrated our eighth wedding anniversary. Hmmmmm ….
The foundation of Jennifer and my story is that we met at a NMSS event, so it seemed quite appropriate to celebrate our special day at an MS function, right?
In addition to the opportunity to get dressed up and spend the day with some of our Michigan Chapter friends in a high-class hotel, we were excited to hear a member of the legendary Osmond family share stories about his life and how he lives with MS.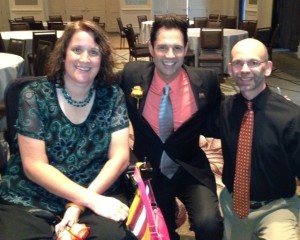 David Osmond was diagnosed with MS in 2006 and served as keynote speaker. He is the son of Alan Osmond, the founder of the Osmonds, who also has MS. Certainly this calls into question whether or not Multiple Sclerosis is hereditary. According to the NMSS,  "MS is not directly inherited, but genetics play an important role in who gets the disease."
The stories, lessons and songs that David shared still inspire Jennifer and me. That, and we had the incredible opportunity to meet and briefly talk with him about our life with MS before the event.
Through his presentation, he described how MS has impacted his family. What Jennifer and I think is so effective is the determined attitude the Osmonds collectively share.
"Pain comes to all of us," David said. "Suffering is optional."
David said among the events that strengthened his family came shortly after his father was diagnosed with MS. Alan reached out and received support and guidance from Annette Funicello, another famous person who was living with MS.
Something that Jennifer and I took away from David's presentation was the acronym "T.U.F.F." According to David, when the going gets tough, the T.U.F.F. get going. To overcome the challenges you face, you need to:
Target – Zero in on what you need to do.
Understand – Know everything you can about the challenge you're facing.
Focus – Stay centered on how to live with or beat that challenge.
Fight – Continue fighting for yourself and the people you love.
As if meeting David Osmond and hearing his stories wasn't enough to make this a memorable anniversary, near the end of his presentation he talked about how MS was the worst and best thing that ever happened to him. Recalling that Jennifer and I shared the same sentiment when we met him earlier, David pointed at us and described us as, "an amazing couple I met," and said, "… you blessed me today."
Wow, what a happy and blessed anniversary indeed!