I see things. I have a great perspective and point of view. I'm smarter than people think.
And I have feelings too! I get attached to people, especially caregivers, and it seems like as soon as I warm up to them, poof—gone. Just look at that list of successful caregivers over the last eight years.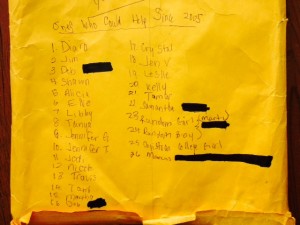 Those are only the ones who successfully perform  the tasks and made the cut. How am I supposed to deal with that kind of turnover? All of them in a little more than eight years? Ridiculous!
About those feelings of mine … who comforts me?
It is not like Mumma ever gets down on the floor to cuddle or play with me. If she ever does end up down here, I sometimes have to listen to her cry for a few seconds and then that big machine rolls in, scoops her up, and she's gone.
Seriously, a cat's life is tougher than people ever will know!
However, I have learned a few things living with Mumma and Dan over the years. I'd like to believe some sage pieces of wisdom that I would like to share. And they have graciously agreed to let me guest post on Mondays some of my brilliance or the brilliant quotes I've read.
I hope these quick flashes of genius inspire you or make you smile or think. Either way, help start your week out right. Monday Morning Moments with Cooper
Sounds good, doesn't it? Check me out each Monday and please let me know what you think. But don't be offended if I really don't seem to care. After all, I am a cat 😉