In a surreal sort of way, I felt like the bad guy in a situation stripped straight from ABC's hidden camera ethical dilemma series, What Would You Do?, hosted by John Quinones.
But I had every reason and right to have our van parked in a handicapped parking spot close to Anspach Hall. Even after I just finished running my four-mile route on Central Michigan University's Mount Pleasant campus.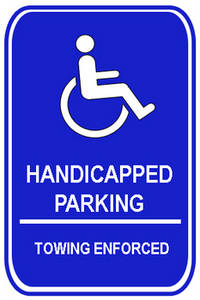 Part of me felt guilty, the other part was just itching for somebody to call me out on it. Unfortunately, nobody ever did.
But had someone ever asked how I—a runner—could get away parking in a handicap spot, here is what I was ready to tell this bold person:
Thank you so much, and it's interesting you should ask me. I appreciate your concern. You see, my wife is disabled and I park here for her. She's in class right now, and each week I come up here so I can help her go to the restroom during her break. After I help her, I go for a run, which I try to do at least three times each week.
I usually finish running about the same time her three-hour class is dismissed. I go up to get her on the second floor and carry her books for her­—I'm chivalrous like that—and we take the elevator down and she drives her power wheelchair into our van parked here in this handicap accessible spot.
Why is she disabled? No, that's not too personal of a question. She has Multiple Sclerosis. It's the secondary progressive kind of this chronic illness of the central nervous system. She no longer can walk. It's unpredictable and affects everyone differently. You see, I—the runner—also have Multiple Sclerosis. Mine is the relapsing remitting kind. Did you see how I was stumbling a little after I got done running? Right. It affects everyone differently.
Suppose that's why I was itching for someone to call me on it. Not that I wanted a confrontation. It just felt like an ideal teaching moment for a university campus.
So if you saw something like this, what would you do?