Never again will Jennifer and I be able to tell this story about our experiences in the days leading up to and during the 2009 Walk MS. Our backyard and house were converted into a movie set of sorts, complete with a director, cameraman, lights, cameras and a sunlight reflector thingy you see on many outdoor Hollywood sets. Not to mention that on several occasions, a neighbor passing by could have heard the words: "And … action!" echoing across the yard.
i felt like such a star! i have what i consider a pretty ordinary life. it's a good life, but it's ordinary … i'm just living. but for two days i had cameras pointing at me, a director asking me questions and people caring about what i had to say. and it felt amazing!
We're still humbled and overwhelmed by the fact that we were one of three nationwide winners in the Acorda Therapeutics "I Walk Because" podcast contest. Acorda is one of the Walk MS sponsors and through its "I Walk Because" campaign was looking people with MS to tell their story — in their own words — about why they walk and what Walk MS means to them.
to find these people, acorda launched a nationwide contest inviting all walk ms registrants to submit a 30 second video about why they should be chosen to tell their story. the winners will tell their story as part of a video series that soon will be broadcast on Acorda's "I Walk Because" web site.
We felt that because we're married and both are living with MS, we'd have a great story to share. Fortunately through the video we made (thanks Cynthia and Wes!), Acorda did too.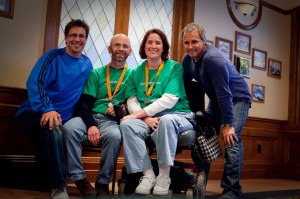 in our winning video submission i say that i walk because i can't walk and want to make sure dan always can, and dan says that he walks because he can and that hopefully through our effort with walk ms, someday I might be able to walk again. awwww. it was very sweet!
This theme carried through into the on-camera conversations we had in our video shoot, and we are soooo excited to see what Joe (the director), Darren (the skateboarding cameraman) and the production crews with StudioPMG and Acorda Therapeutics put together! They got everything from interviewing us and getting footage here at home to following us and members of our team — Team MonsterS — at the walk in Frankenmuth.
we're hoping the final podcast will be posted for the whole world to see within the next several weeks.
And when it's posted, all the readers who subscribe to our blog will be the first to know!
Jennifer and Dan