Between a wall showcasing every major brand of running shoe in stock and a wall displaying the industry's best wicking running apparel, the helpful salesman at Runners in Mount Pleasant squats and watches my feet as I walk back and forth on the uncarpeted section of the floor.
His analysis of my gait determines that I'm a neutral, meaning my foot absorbs the shock the way it was designed to, as opposed to landing heel first or landing on the very outside of the foot first. He tells me what type of shoe I need.
He smirks when I ask him to settle an ongoing debate between Jennifer and me about my status of "being a runner."
Jennifer wholeheartedly professed that I was a runner, citing that I live and die by my Garmin GPS-enabled sports watch results each time I run and that I have respectful finishes in every race I enter. I, in turn, stressed that I wasn't a runner. I merely was a guy who runs, pointing out that I maintained nowhere near the gazelle-like physique and pace of the people I pictured as true runners.
"You know what the difference is between a jogger and a runner?" he asks.
"An entry form," he explains with a smile.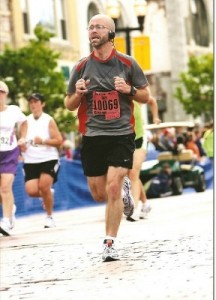 Following his logic, I'll agree with Jennifer's claim that I am a runner. But my numb feet always remind me that I am a runner who has MS.
Most races break down their entrants by specific age groups, not by whether or not they have MS. But if they did, I potentially have finished in the top five of this specific category in every race I've ever entered. Race forms will never single out runners who have MS, so I'll continue comparing myself to other runners who likely aren't living with this chronic disease.
I may never win any of the races I enter, but I always will have a decent showing because I'm there.
Despite my MS.
And with this New Year, on Aug. 28, 2010, for the first time ever I will run the full 10-mile route at the Crim Festival of Races in Flint, Michigan.
To spite my MS.