Getting upset seems like it happens several times each day when you're living with Multiple Sclerosis.
Common occurrences include dropping your phone because your numb hands can't feel it. Missing a social event because you know the freshly fallen snow will compromise your balance. Getting to the bathroom two seconds too late.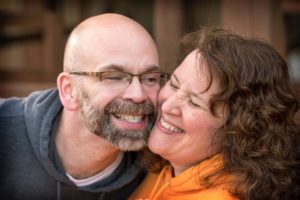 Frustrations happen.
So what keeps you going? What inspires you to bravely brush yourself off, turn the other cheek and valiantly press forward past these temporary yet regular setbacks?
If you ask us, our initial response always will be each other. But that's an easy answer. And honestly, life with a chronic illness never is easy.
For the sake of each other, we have days where we have to go beyond the unconditional and dependable love of a spouse.
For Dan, he regularly finds inspiration through his faith and Bruce Springsteen's music. For Jennifer, hers often comes in the promise of the "next time" and a constant quest for happy times.
It's simple to think about and remember the specifics surrounding the moments that upset us. That's why we have an optimistic kind of self-care challenge for you this week:
Our challenge for you this week is to recognize, appreciate and track exactly the thought, person or moment that inspired you to move forward when times get tough.
In our experiences, finding that inspiration is key to maintaining a positive attitude and keeping things real. Plus, business experts long have indicated that people in the workplace perform at their best when they are inspired and motivated.
Why should your health and self-care be any different?
Join us in this inspirational challenge and download the Health Storylines app or visit healthstorylines.com to set up your free account.
With this resource, you can easily reflect on what got you through the challenging times by using tools such as "Routine Builder" or "Task Challenger." Such tools help you to track and monitor progress in taking care of yourself today.
Remember to share your progress with us by posting photos to our Facebook or Twitter and use #selfcareMVMT
Also, you can catch up on our other self-care challenges on our most recent online MS & Me Radio Network show A Couple Takes on MS.