As our cat Cooper so clearly pointed out in his last blog post, Dan and I are a very busy couple. I'm still not sure if we stay so busy because we are trying to stay in front of our Multiple Sclerosis, or because we want to take advantage of every amazing opportunity this disease presents to us.
What? I can hear you saying. But yes, it is true.
MS has presented us both with our fair share of challenges, but at the same time, we've been given the chance to meet and connect with so many amazing people. For instance, last week, I "met" fellow blogger Yvonne deSousa. Yvonne's blog is about finding humor in a Multiple Sclerosis life.
What a fantastic way to look at the world!
I was lucky to share my thoughts about growing older, Eeek!, on her blog and we look forward to sharing one of her essays in the future.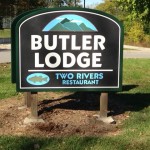 Along with being part of this great online MS blogging community, we are able to share our personal stories of living with MS. In fact, we are gearing up to present at the National Multiple Sclerosis Society Kentucky/Southeast  Indiana Chapter's "Moving Mountains for MS" family event near Louisville. This will be the second time we have participated at this empowering event in the MS community.
But we are not just MS, our social life keeps us busy too.
This past weekend, we celebrated homecoming at Central Michigan University.
CMU won! We froze! But most importantly, even with (or because of) our busy life, we had a great time!!