Dan and I thought we had it made in Nashville.
Flying home from our recent trip, there was a family restroom at the Nashville International Airport. And it even was marked as being handicapped accessible.
We quickly learned that not all family restrooms are created equal.
I mean, we appreciated the efforts of the Nashville airport to include the feature of an accessible family restroom. But if they're going to claim it's accessible, they best ensure it is accessible for everyone.
One look into the restroom, Dan turned to me and said, "How do you feel about holding it until we get to Detroit?"
Looks like I didn't have a choice. Thankfully it only was a 90-minute flight. I thought, "Bladder, don't fail me now."
Really, just look at this restroom and ask yourself: How could a wheelchair fit, let alone a caregiver to help make a safe transfer to and from the wheelchair to the toilet?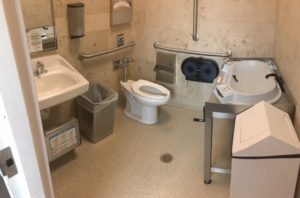 And the sad thing is: We were using my smaller travel wheelchair rather than my tilt-in-space power chair, Grape Ape.
It's a shame that after nearly 28 since they passed the Americans with Disabilities Act, there isn't a universal standard for all accessible family restrooms.
I take great pride in encouraging all airports across the United States to #BeLikeDetroit. Detroit Metropolitan Airport gets accessible family restrooms.
Just look at the space available. And the best part is Metro has them everywhere!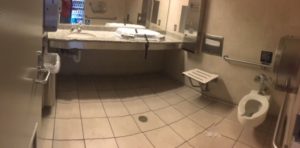 I'm not calling out Nashville International Airport to make it look bad. It was a great facility complete with Southern hospitality. It's just that Dan and I plan to make future trips to Nashville, and we're hoping to improve the experience for us and other people living with disabilities.
My suggestion to the Nashville airport is to get rid of the clutter (you only need one garbage can) and bulky stationary changing table and invest in a fold-down table mounted on the wall. This would free up space for a wheelchair and a caregiver to make safe transfers. These suggestions also could help other buildings with public family restrooms.
Again, as a lifelong Michigander, it makes me proud when my home state can serve as the model for others to follow. When it comes to restroom accessibility, #BeLikeDetroit.