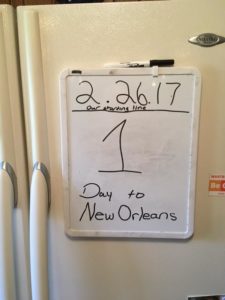 To say Dan and I were looking forward to our trip to New Orleans to serve as the NMSS Louisiana Chapter's On the Move Luncheon keynote speakers would be putting it mildly.
After all, we've had a daily countdown written on our refrigerator for the 45 days leading up to our travels. 45… 44… and before we knew it, the countdown was 1. But late that morning, Dan sent me the following text: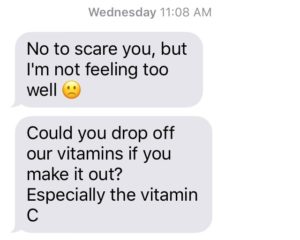 Uh oh! Quick trip to drop off vitamins; not panicking yet. Dan will be fine. Maybe he's a little rundown but certainly the vitamins mixed with excitement and adrenaline, everything will be OK. Nothing to worry about. Dan is a rock, right? The Big Easy here we come!
We were on our way. Dan came home from work, we threw our two carry-on suitcases into the van and made our way down to Detroit. Our flight was scheduled to leave Detroit at 8:40 the following morning, so we booked a hotel room near the airport so we didn't have to get up so early to fly to New Orleans. We checked into our room, brought in our suitcases and then …
It all went to hell.
Dan tried transferring me to the toilet, but no luck. We chalked it up to us both being warm and tired. Maybe if we just laid down for a few minutes, we'd cool off, regain our strength and be back to 100 percent. It never happened.
The entire night was a blur. We were dazed, confused and incapable. Dan somehow got me into the way-too-tall bed, but was too exhausted to turn me and put my head on the pillow. I remained in the middle of the bed, parallel to the headboard, and directly next to his crumpled-up body that had crashed down next to me after he managed to fold the covers over me.
Dan was burning up, but shivering at the same time. He got up once and looked through the drawers and closet for a blanket. Finding none and his subsequent unwillingness to call down to the front desk and ask for a blanket, my sympathetic self could only recommend that he cover himself up with a towel.
He was too sick to do much else. We both drifted in and out of consciousness for the next few hours. And fever exaggerated every MS symptom Dan has, and by the middle of the night he no longer could stand or walk to bathroom without dizzily grabbing anything he could to remain upright. And all I remembered was thinking I so desperately needed my cellphone in case he happened to fall or die in the middle of the night and I needed to call for help.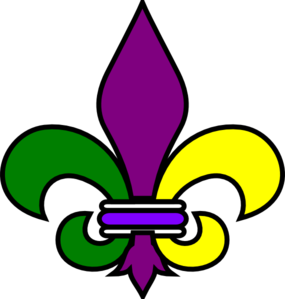 When the alarm went off at 4 a.m., it only made sense to push on. Sure, Dan couldn't stand on his own and lacked any feeling in his hands to tie his shoes or button his pants, but we HAD to get to The Big Easy, dammit! Had to be to the airport in two hours to make our 8:40 flight.
Somehow, Dan did get himself dressed, got me dressed while I still was lying in bed and attempted to transfer me from the way-too-tall bed into my wheelchair.
The fact that my feet weren't touching the floor should have screamed loud and clear that this was a bad idea. But remember: Dazed, confused and incapable? That my fall onto the floor wasn't more aggressive and painful was sheer good fortune. But there I was, sitting on the floor, with my back to the bed and left arm strategically positioned on the seat of my chair. As my good luck continued, I DID have my cellphone for Dan to call the front desk and ask for assistance in getting me off the floor.
Being so early in the morning, the hotel lacked a full fleet of strong personnel to lift me up, so they called in the local paramedics. Assessing the situation, the self-professed vertically challenged paramedics radioed for back-up assistance from the fire department to get me safely back into the way-too-tall bed. Yes, they commented on its height too.
Once the dust settled and we were both back in bed, we conceded New Orleans and serving as the luncheon's keynote speakers was not in our future. Dan's fever had returned and our airplane was boarding soon.
Dan fell asleep, and I hastily sent a message of regret to Nancy that we weren't going to make it to New Orleans. Nancy was the coordinator in charge of planning this event, and we had connected with her earlier this year when we presented at a similar luncheon in Baton Rouge. She understood and handled the situation better than we did, and was most concerned that Dan and I were safe. She has a background in the theater, and knows that "the show must go on." Which it did.
But for us, there would be no time in the French Quarter, no in-person meeting with our fellow MS blogger Nicole Lemelle who manages My New Normals and lives in New Orleans, and no connecting with the more than 200 luncheon attendees. Our main concern was safely getting home to Mt. Pleasant.
Dan's fever broke around 10 a.m. and within the hour he had regained his strength and balance to help me transfer — even out of the way-too-tall bed. We were packed up and on the road home by 1:30 p.m. Maybe we didn't go to New Orleans this time, but do we have an even greater appreciation for our health, in spite of our MS.
And we look forward to the opportunity to make the trip to The Big Easy somewhere down the road.