After presenting eight of the 10 awards, Matt "Mojo" Lersch paused to ask officials for direction before moving onto the ninth.
The master of ceremonies at the National Multiple Sclerosis Society, Michigan Chapter's 2009 Annual Meeting and Celebration of Volunteers and Top Fundraisers in Livonia showed the crowd of nearly 200 people the specific directions typed in the script he was following.
"This award is a secret," whispered Mojo, who hosts the Rock 'N' Roll Sideshow on Lansing's Rock Station Q106 and was diagnosed with MS in December 2008. "Only a few people know who's getting it."
Mojo then was given the green light to present the 2009 MS Achievement Award, which expresses the NMSS's appreciation of and to provide recognition to an individual with MS who has achieved outstanding success in life.
He described that while the award recipient doesn't need to be a NMSS member or volunteer, this person must have made a significant impact in his or her profession and community.
But when Mojo began to read about the accomplishments of this year's "secret" recipient, he led with, "This couple …" And we soon realized he was talking about us.
Our eyes pooled with tears and the reality quickly sank in: We were being named the 2009 MS Achievement Award recipients.
In following what has become a built-in emotional defense mechanism for us, we held each other's hand and both started laughing to keep from crying. We were so surprised to be recognized for what we've done to increase awareness about MS, we didn't even make it on stage to receive the award.
Were they really talking about us? It took NMSS Michigan Chapter President Elana Sullivan meeting us at the foot of the stage with the award for us to believe that this really happened.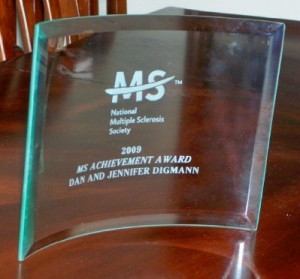 It's incredibly overwhelming and humbling to be recognized like this. After all, we never asked for this disease. We are just doing what we can to get the word out about MS and help people positively move forward when dealing with whatever challenges they face.
Through our volunteering at NMSS events, public speaking and maintaining this blog, we hope to increase awareness and public understanding of this chronic disease of the central nervous system that affects us and over 400,000 people nationwide, including 18,000 in Michigan.
This prestigious award is our proof that you never know what kind of impact your actions will make on others.