Can you hear that?
Maybe it is one of the clocks in our front room.
Tick tock, tick tock.
Nope, that's not it.
Tick tock… there it goes again. Only faster now – more like the stopwatch from the television show 60 Minutes.
Less tick tock, more tick-tick-tick. I wonder to myself, "Hmm… where is that coming from?"
It's an annoying noise that is driving me crazy.
Not until my cousin Kirsten recently gave birth to her second child did I start putting the pieces together. Then, when my niece Anna was born August 23, it smacked me up side my head!
I realized that the incessant ticking is my biological clock.
GASP! My biological clock. It can't be!
After all, children are not supposed to be in Dan and my future. Especially because both of us are living with Multiple Sclerosis. Us having children, well, that's just a selfish, ridiculous idea!
Well, I mean… isn't it?
Can a woman in a wheelchair even have a baby? How will my MS handle it? How will Dan handle the stress? Honestly, when you consider the chronic progressive nature of this disease and what our future could be, raising children and staying healthy seems doubtful, at least for Dan and me.
If we were to worsen, who would care for our child? Should a child be born into a world where he or she would likely have to care for a parent? Not to mention, what if the child were more at risk for being diagnosed with MS?
But then again, aren't these the same questions all couples have when they think about having babies? Perhaps, but not all couples both have MS.
As much as I would like to have a baby, I want Dan to stay healthy more. Speaking of selfish, isn't that thought selfish as well??
Oh how I detest MS. Having to ask these questions and face the reality of not ever giving birth to children are just more reasons why. MS affects everyone differently, and we have many friends with MS who have successfully moved forward with having healthy children.
But this is our situation and our choice.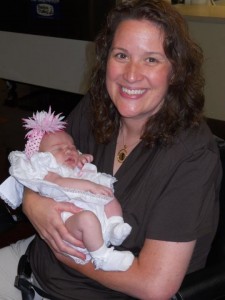 So for now, I'm blessed being an aunt to Leah, Ryan, Ella and Anna. Did I mention Anna Michelle Digmann is my beautiful goddaughter who shares my middle name… how awesome is that?