You all know the storied good-fortune saying about the copper one-cent coin featuring the 16th president of the United States.
"See a penny, pick it up, all day long you'll have good luck."
OK, so really. If you're walking or rolling along the sidewalk and you see a penny sporting Abraham Lincoln's silhouette, do you really stop and pick it up? And if you do, are you really feeling destined for great things on this day because it's in your pocket or coin purse?
Either way, imagine if instead of a penny you saw a quarter. A silver profile of George Washington shining in the sun. Unlike the penny, I bet you'd have a hard time turning a blind eye to such a coin. And who could blame you if you thought it was your lucky day because you found a quarter?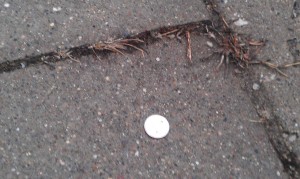 Not a penny. Not a nickel. Not a dime. A WHOLE FREAKIN' QUARTER!
I'm not made of money, but since my junior year at Wartburg College I've tried to make random days a little brighter for perfect strangers, 25 cents at a time.
All I remember is walking in front of the library one Sunday afternoon, and something led me to drop a quarter on the sidewalk near the entrance. I suspect that "something" was my hope for good karma with the sports stories I was writing that day for the college newspaper – Wartburg Trumpet – that day or the test I had coming up that week in biology class.
That random quarter had the potential to make somebody's day. Would it make yours?
I mean, at the time 25 cents was enough for half a can of pop, a payphone call (remember payphones?), or even a load of laundry in the dorms. Of course I could have used the quarter myself, but for some reason I got more out of thinking it could help somebody else. Maybe that quarter was what some person needed to purchase another 12 ounces of caffeine to get through the night of studies or to get two packages of Raman noodles for Sunday supper.
Or perhaps 25 cents was all the person needed to feel that someone was looking out for them that day.
That notion has stuck with me, and I've made a habit of dropping a spare quarter on the sidewalk every so often. I'll never know who will find it, how it will help that person or if it even will make a difference.
I realize a quarter doesn't buy what it did nearly two decades ago. But the potential is there that my 25 cents could somehow help somebody, even if it's just to make them smile.
For me that chance is worth every quarter I leave behind.