Looking back on your past year (it's standard protocol for any New Year's Eve and New Year's Day, right?), what events stand out as your highlights?
Perhaps it was achieving a long-time goal such as losing weight, running your first 5K, quitting smoking or completing a house remodeling project. Or, maybe it was the vacation you took. The wedding you celebrated. The new family member you welcomed into the world.
Each top moment you're remembering was all kinds of special.
As Jennifer and I reflected on our 2013 to get plans and resolutions in order for 2014, we realized a trend in our highlights: Many were connected to politics. Politics? Yeah, it surprised us as well, but look at where we were throughout this past year.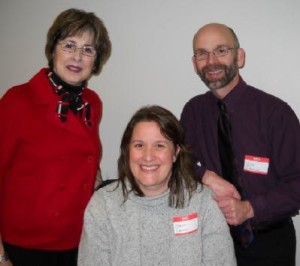 Special invitation to Lansing
We had an incredible time in Lansing the middle of January. Our Michigan Senator Judy Emmons invited us to a reception in her office, where we watched a live simulcast Governor Rick Snyder's State of the State address. Senator Emmons even took the time to talk with us about MS- and disability-related issues as well as the MI Choice Medicaid Waiver Program before she went to the Capitol for Governor Snyder's address.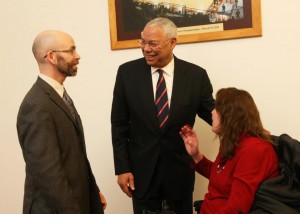 Meeting Colin Powell
Central Michigan University hosted Colin Powell as the keynote speaker for its Martin Luther King Jr. Week celebration in January. In addition to getting to hear the retired four-star general and former U.S. Secretary of State speak, we also had he priceless opportunity to meet him after his presentation. Big THANKS to CMU photographer Robert Barclay for capturing these moments (of which Robert said we were the only ones who got the retired general to smile!).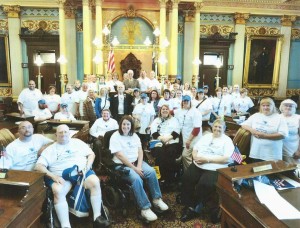 Older Michiganians Day
In June, we made our annual trip to the state capitol to meet with our legislators (Senator Emmons and Representative Kevin Cotter) to advocate for programs that support Michigan's older and disabled citizens. It's always an incredibly empowering experience. This year we had the opportunity to join other Region VII advocates on the Senate floor at the invitation of State Senator Darwin Booher from Clare, who offered encouraging words for our efforts. Also, Governor Snyder spoke at lunch to express his support for many of the programs that were on the day's agenda.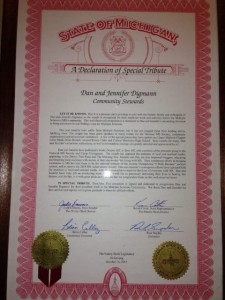 Declaration of Special Tribute
We were SO surprised when Senator Emmons attended a service at our church – Immanuel Lutheran Church in Mount Pleasant – in late November to present us with a State of Michigan "Declaration of Special Tribute." It was signed by her, Representative Cotter, Lieutenant Governor Brian Calley and Governor Rick Snyder to recognize us as Community Stewards for our "stand-out work and activism within the Multiple Sclerosis community." It was such an honor, and we are forever grateful for the friendship and support we receive from our family and friends who help us to move forward and help others.
2014 NMSS Public Policy Conference in D.C.
In early December (and we're still coming down from this), the National Multiple Sclerosis Society Michigan Chapter invited us to serve as the state delegates to the NMSS National Public Policy Conference in March Washington, D.C. We couldn't be more excited about this opportunity! But as Jennifer admits in a guest post that was featured in Multiple Sclerosis Relief, she's a little bit scared. See why "You'd be scared too."
See why we're looking for even more work in the political arena in 2014? Happy New Year, indeed. We wish you all the best this year!