Throughout the summers, Dan makes the most of a gift I got him when he received his master's degree from Central Michigan University: An officially licensed CMU cornhole game, complete with maroon and gold bean bags.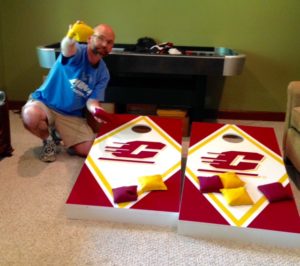 Friends and family come over to cook out, hang out and chill out, and inevitably they find themselves lining up to competitively chuck a bag of corn into a six-inch hole some 27 feet away.
Such fun times! However, because my arms have lost some strength and range of motion since I was diagnosed with Multiple Sclerosis, I've never been able to join in throwing the bags.
Not yet.
You see, doing more exercise is part of my plan to lose weight. I know. It's part of everybody's weight loss plan. But mine is different, and here's how:
I went to a physical trainer. And yes, I was intimidated. Chubby me going to the gym, in a wheelchair. The moment I rolled in, nobody cared that I was chubby or in a wheelchair. They were working on their own issues, and many of them offered me encouraging smiles because they knew I was there to work on mine.
The most encouraging smile came from Brandon, my physical trainer. He met with me, listened to my story and — over the course of a few weeks — structured an exercise routine that my caregivers and I could do at home. Most importantly, it is a wheelchair exercise program that I can do despite my MS.
Brandon asked me the biggest goal I hoped to achieve. I wanted to get stronger, certainly, but I want to one day be able to play that silly bean bag toss game with Dan. And I don't just want to play it, I don't want to embarrass myself.
So, Brandon developed a plan to stretch and strengthen my arms, legs and core, and I've been working at it. And I'm getting closer to my goal … one toss at a time.