Moving to the music on the dance floor is nothing new for Jennifer and me. At weddings and parties we always go and claim an unoccupied corner of the dance floor – out of everyone's way – and "dance."
This dancing involves Jennifer elevating her powerchair seat so we're closer to the same height and we either embrace and sway to a slow song or join hands and boogie with our arms to a fast song.  
But there was something different this time at WCMU's annual Night of Louisiana.
This was our second year attending what the public broadcasting network flaunts as a way for people to cure the mid-winter blues. As for me, I always tell others they have to go because it's just plain ridiculous fun!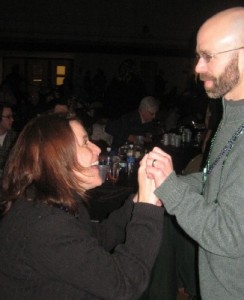 So, Jennifer and I donned our Mardi Gras beads and headed out for a night of southern-style cuisine and live Cajun and zydeco music by The Pine Leaf Boys and Lil' Nathan and the Zydeco Big Timers.
After meeting up with our friends, we swiftly forgot about the frigid late January freeze. Trusting in the sweet fruitiness of overpriced and fully liquored Hurricane drinks to cool the burn from our spicy Cajun dinner, Jennifer and I watched as people swarmed the dance floor three notes into The Pine Leaf Boys' opening song.
The people's dancing to the fiddle- and accordion-laced Cajun music was contagious. Jennifer and I quickly claimed an unoccupied corner of the dance floor and throughout the night we danced – swaying and boogying while Jennifer sat in her powerchair.
But with one song, everything changed: Jennifer was standing – honest to God standing! – with me out on the dance floor.
Lord know what led us to give this a try (Jennifer thinks maybe it was a little liquid courage), but all I remember was her looking up at me as the slow song started and I asked, "Did you want to try standing a little for this one?"
Certainly, I always help Jennifer stand to make transfers at home, but never had we stood together like this in public, especially on dance floor with hundreds of people around us.
Jennifer didn't hesitate to say, "Yes," and as we always do to stand, she put her arms around my neck and I straddled her right leg, slightly squatted, wrapped my arms around her back and locked my hands together. And she counted, "1, 2, 3."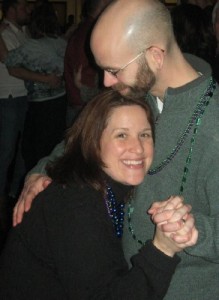 And there we were. Dancing our first slow dance. Jennifer and I standing together swaying to the slow song. And all we really could do was smile as we looked into each other's eyes (although, I do remember telling her how awesome it was to see her standing because she knows how much I enjoy the fact that she's two inches taller than me). 
While her MS-weakened legs likely limited our dance to less than a minute, I truly had lost track of time. I was really dancing with my wife. I'll bet with Jennifer standing with me we looked just like everyone else on the dance floor.
But I couldn't tell you for sure. For that moment in time, we were the only ones out there.