For the fourth straight week, Jennifer and I were included in the editorial pages of the Monticello Express. But this time it wasn't as part of the weekly column written by Express Editor Steve Lerch. This time it was an editorial calling for someone with MS in the Monticello area to step up and get something started to help themselves and others living with this disease.
This is an incredible call to action to generate a local social network to help people make connections and get the important information and support they need. As a leader of the Gratiot County-area MS Self-help Group in Alma, Mich., I have seen firsthand the tangible and immeasurable benefits that such a group brings to people living with MS who are looking for everything from answers to direction, comfort, laughter, and most of all, others who can relate to the daily challenges they each are facing.
This type of mutual understanding from others truly has helped to lighten the load of what I'm dealing with and makes it a whole lot easier to smile and move on with my life, with or without MS.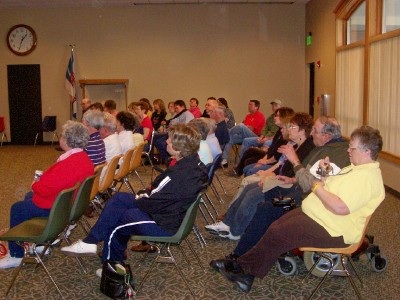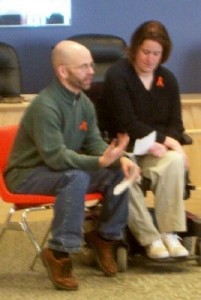 What is overwhelming to me is that I don't think this call to establish an MS support group in Monticello, Iowa, would have been made if Jennifer and I hadn't spoken there a few weeks ago. We were hoping to increase MS awareness. Based on this editorial, I think we did.
Here are some excerpts:
MS support group needed in Monticello
The City of Monticello needs a support group for those living with Multiple Sclerosis.
Two weeks ago, former area resident Dan Digmann and his wife Jennifer visited the Mary Lovell LeVan Renaissance Center here in Monticello to raise local awareness of MS–more than 30 area residents, many of whom living with the disease, attended to share their stories.
A support group can be organized by anyone. A likely group leader, according to Camp Courageous Executive Director Charlie Becker, would need passion and dedication to the cause of raising awareness for MS. …
Hundreds of thousands across the United States live with MS. Like the Digmanns, these people work with their local support groups to manage their condition by fielding questions, venting concerns and raising awareness.
For example, on Monday, April 20, more than 500 people gathered in Hamilton, NJ, gathered to participate in the National Multiple Sclerosis Society's 21st annual Walk for MS fundraiser.
A local support group could present a unique opportunity for those living with the disease to rally together in preparation of a cure for MS. That opportunity could also present a forum for the voice of MS to be heard throughout Monticello and Jones County. Perhaps next year Monticello will have its first 5k MS Awareness Walk on behalf of the National Multiple Sclerosis Society organized by the community's first MS support group. …"